IELTS Prep Courses in Vancouver (Canada)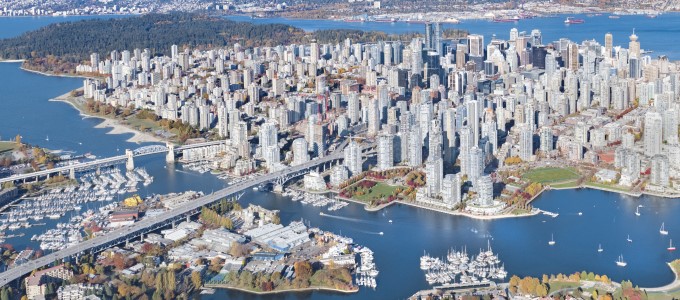 Vancouver is one of the most diverse cities in the world, with more than 50% of the population speaking something other than the local English language in their homes. Manhattan Review has been preparing students around the world for over 20 years to take standardized tests needed to enter English-speaking programs in Canada, the United States, and the United Kingdom among others. We propose that students required to take any of the International English Language Testing System (IELTS) assessments can enhance their test scores and language skills with Manhattan Review's comprehensive IELTS services. We offer on-site IELTS prep courses, private IELTS tutoring, online IELTS instruction, and IELTS practice tests. Taking into consideration your personal learning style and needs, we are sure you will find the program that suites you best.
As a global company, Manhattan Review has specialized in helping international students prepare to take the IELTS and other standardized tests required to enter top univerisities in English-speaking countries. As such, we are sensitive to the specific needs of English language learners. Our world-class curriculum is sure to help students efficiently achieve their test score goals and meet requirements needed to enter the program of their choice. With our extensive experience working with non-native speakers of English, we are equipped to facilitate your success in English and American standardized tests.
Check out more about what Manhattan Review has to offer in IELTS prep courses and IELTS private tutoring programs for Vancouver students by contacting us today. You can start improving your IELTS and university admission prospects right away with our flexible scheduling options.
Manhattan Review's IELTS test prep clients have been acceptaned to an impressive list of prestigious schools in Canada, the United Kingdom, the United States, Australia, and other countries, including the University of British Columbia, University of Toronto, Oxford, Cambridge, Harvard, Dartmouth, the University of California-Berkeley, and Standford University. Open doors for yourself to join our students who eventually become successful professionals working for Fortune 500 companies throughout the world which are seeking applicants from the most prominent programs. In the current job market, mastery of the English language is essential to your success. Join fellow residents of Vancouver to become a more proficient speaker of English and master the IELTS with Manhattan Review's IELTS prep courses and private tutoring.
Vancouver
Primary Course Venue:

Manhattan Review GMAT GRE LSAT Prep
Vancouver Teaching Center at the Sheraton
1088 Burrard Street
Vancouver, British Columbia V6Z 2R9
Canada

Phone: (604) 628-6110

NOTE: We do NOT typically have staff at the venue, so email us before visiting the venue.
Meet a Vancouver IELTS Tutor: Javier G.
Javier G., who is originally from Bogota, Columbia, has himself seen the doors opened for those who have mastered learning English. He has been an IELTS tutor for Manhattan Review in Vancouver since 2016. Before his relocation to Vancouver, he taught IELTS prep and English as a second language in the United States for seven years. His personal style of teaching and ability to relate to his students' language learning goals produces consistent score gains on all sections of the IELTS, and his students often comment on his comprehensive effectiveness as an instructor.
Javier earned his Bachelor of Arts in English Education from the University of Florida. He was awarded a master of education from the University of Chicago where he also earned his TESOL certification and worked for years. He later relocated to Vancouver with his wife and two sons. He now enjoys hiking, swimming, and bycling with his family when he is not working with students.