Best LSAT Test Prep Courses and Tutoring in Montreal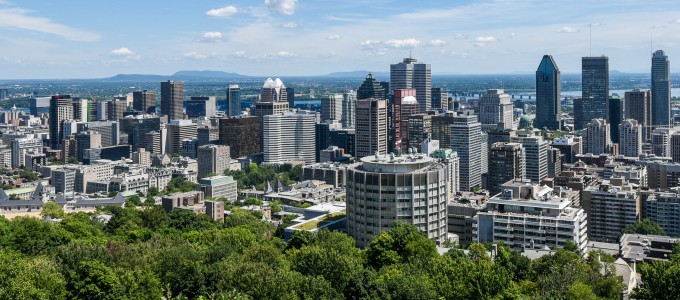 The Law School Admissions Test, or LSAT, is the material that admissions committees weigh the most heavily in their decisions for which students to accept because it is considered the exam that best demonstrates a student's capabilities to perform at the law school and in the field of law. Proper preparation to ensure a high score is an important step to take as a result. Manhattan Review can help students who are looking for LSAT exam preparation, and has been assisting students with their standardized test study process since 1999. Students who utilize Manhattan Review to study for the LSAT exam will find that Manhattan Review can provide students in the Montreal area with the best instruction, along with practice tests that are updated annually to reflect the formatting and content of the exam. Students who choose to prepare for the LSAT with Manhattan Review can combine those with group courses and private tutoring, or use them separately.
Students who choose to take advantage of what Manhattan Review can potentially offer to LSAT test takers will find that the instructors have a high level of knowledge of the exam thanks to many years of teaching students its material and several Manhattan Review instructors have retaken it recently to help develop a greater understanding of the current formatting and content on it. Both group courses and private tutors can be offered to students in either an online or in-person context. Students in the Montreal area who choose to work with an in-person tutor can meet their instructor at a mutually convenient location that is beneficial for both the instructor and the student. Manhattan Review LSAT instructors can also customize the lesson plan as necessary depending on the student's strengths and weaknesses, which will help students in delivering a stronger and more well-rounded performance on the day of the LSAT exam.
Students who have taken advantage of Manhattan Review to help them in the process of preparing for the LSAT exam have managed to not only increase their score on the day of the test, but also have used their guidance and preparation to help them on future exams when they have gone to law school. Students who have used Manhattan Review as part of the preparation process for the LSAT exam have gone on to some of the top law schools around the world, including Harvard, Penn Law, University of Chicago, Oxford, Montreal's own McGill University, and many others around the world. Students have also managed to use Manhattan Review's LSAT preparation and subsequent academic successes to get jobs at law firms associated with various Fortune 500 companies, such as Apple, Microsoft, Dell, JP Morgan and Chase, Bank of America, and many more. Call or email an academic program advisor today to learn more about what Manhattan Review can offer you in your LSAT exam preparation.
Hello, I just wanted to let you know that the current class that i am taking is really helping my studies. George has been a great help and I thank you for fitting the class into my busy schedule.
- Simone (This student prepared for the LSAT with us)
Montreal
Primary Course Venue:

Manhattan Review GMAT GRE LSAT Prep
Montreal Teaching Center at the Sheraton
1201 Boulevard Rene-Levesque West
Montreal, Quebec H3B 2L7
Canada

Phone: (514) 312-7207

NOTE: We do NOT typically have staff at the venue, so email us before visiting the venue.
Meet a Montreal LSAT Tutor: Meg T.
Meg T. grew up in Toronto and attended McGill University for her law school studies, at which point she decided to remain in Montreal and continue both her law career and her career as a tutor for the LSAT. She took up LSAT tutoring in law school shortly after earning a score in the top percentile on the exam, and teaches students with Manhattan Review.
Meg has experience working with Manhattan Review students both in a group course setting and as a private tutor, along with helping students who have actually gotten into law school with their coursework. She has a flexible schedule despite her law career and has helped a large number of students achieve their academic goals related to law school. In her spare time, Meg likes to draw and sketch.