GMAT Private Tutoring in Vancouver (Canada)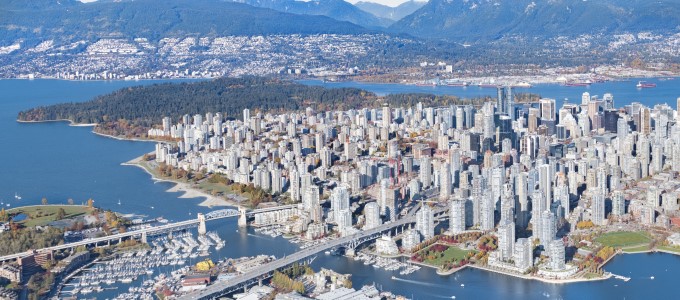 You have decided you want to advance your career opportunities by earning your MBA, but now what? It is time to put together an application that will help you stand out among applicant pools which are becoming ever more competitive. You've earned high marks in your undergraduate classes secured a great internship, but you also need to impress the admissions board with high percentile GMAT scores. Manhattan Review is Vancouver's top resource in preparing students to take the GMAT exam. Hundreds of Vancouver's aspiring MBAs have taken advantage of our GMAT private tutoring services. Our tutors provide clients with the educational tools they will need to get accepted in to top rated business schools, both in Vancouver and elsewhere.
The GMAT is administered by The Graduate Management Admission Council, which reports that the average GMAT total score is 560. This score is calculated by the quantitative and verbal sections only. Top business programs expect GMAT scores which are above average. For example, Harvard reports the median scores for its latest class was above 700 for the total score. Many elite programs report total scores ranging from 650-700. Most students are able to attain these higher GMAT scores if they devote effort to their GMAT studies. Manhattan Review offers the best tutors in Vancouver who can help you maximize your time spent by streamlining the study process and crafting a plan that is individual to your needs.
If you are preparing to take the GMAT, in Vancouver, streamline your studies with a private tutoring program customized to your unique needs. At Manhattan Review, our tutors know that each student has different needs. Though students all come with the goal of achieving high GMAT scores, the path they take for most success changes from person to person. In one-on-one sessions, our tutors can pinpoint areas of strength and weakness in each student. Tutors can then tell students how to highlight those areas of strength and form targeted strategies to help build up areas where there are deficits. Other options to consider are group courses and interactive online courses for those proactive learners who would rather study from home. We also offer consulting services for those looking for more information and insight into MBA admissions and practice GMAT tests. Join the students in Vancouver who have utilized Manhattan Review and have gone on to graduate from the most highly respected business schools, from Harvard and Columbia to UBC Sauder School of Business and SFU Beedie School of Business, among many others.
After spending some time in Vancouver's varied industries, many employees come to Manhattan Review when they are ready to take their careers to the next level by earning an MBA. In a city full of competitive resumes, our clients know that admission into the top business programs will help put them over the top when future employers are choosing new candidates. Whether headed to University of Toronto, University of British Columbia, Simon Fraser, Wharton, or Oxford Said Business School, students in Vancouver can conquer the GMAT with the right test prep strategy: the tutoring individualized to fit the learning needs of students.
Take the opportunity now to let Manhattan Review help you find the perfect GMAT tutor for you. Having cultivated our curriculum since 1999, let us share our expertise and study materials to help you raise your GMAT score and gain acceptance to your first-choice business school.
GMAT Private Tutoring
Hours package 12 to 48 hours, Personalized 1-on-1 Tutoring, In Person or Live Online
GMAT Private Course
12 hours in total, Personalized 1-on-1 Course, In Person or Live Online

I just wanted to let you know that this weekend's course in Barcelona was superb. I found really useful and the instructor was extremely efficient, with both a very good knowledge about the topic and an impressible ability to communicate with the students and explain! Wonderful, I would strongly recommend it to anyone preparing for the GMAT without hesitation. I also wanted to thank you for all your administrative support!
- Marta (This student took our Barcelona GMAT weekend course)
Vancouver
Primary Course Venue:

Manhattan Review GMAT GRE LSAT Prep
Vancouver Teaching Center at the Sheraton
1088 Burrard Street
Vancouver, British Columbia V6Z 2R9
Canada

Phone: (604) 628-6110

NOTE: We do NOT typically have staff at the venue, so email us before visiting the venue.
Meet a Vancouver GMAT Tutor: Sam F.
Sam was born in Edmonton, Alberta where he eventually attended the University of Alberta. After having finished his undergraduate degree, he moved to Calgary where he worked his way up to a Project Coordinator at TC Energy before he decided he wanted to go back to school to get his MBA. In his own experience he learned that simply using GMAT study books were not enough for him – he needed a tailored plan to help him with his quantitative score. After studying with a tutor, he was able to score in the top 97th percentile on th exam and was able to attend Rotman School of Management at the University of Toronto. He lived and worked in Toronto for seven years.
Itching to return to the west, he jumped at the opportunity to relocate to Vancouver. He has been living and working in Vancouver for 4 years. Soon after arriving, he decided to also branch out to offering private tutoring for the GMAT. He loves working with individuals and helping create a personalized plan for each one which will help them accomplish their learning goals. Using the skills acquired from his own tutor as well as Manhattan Review's curriculum, Sam has enjoyed helping students who have gone on to study at Queen's, University of British Columbia, University of Toronto, and Berkely.